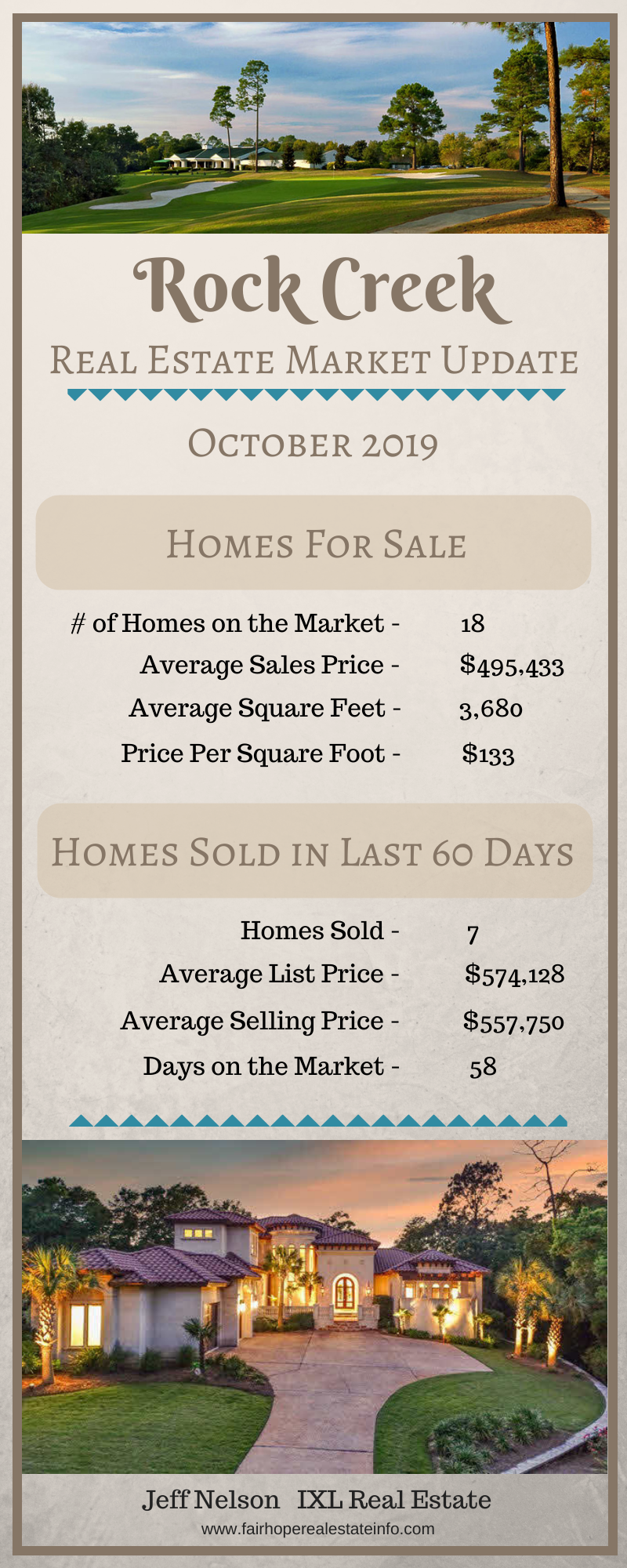 As your Fairhope Realtor, I like to keep my current and future clients updated with the latest real estate statistics for popular neighborhoods in town. Rock Creek definitely fits that bill. So, here is your…….
Rock Creek Real Estate Market Update – October 2019
Rock Creek is a large community situated on a championship golf course in Fairhope.

Homes on the Market in Rock Creek
Rock Creek is a well-appointed subdivision with properties that show that the home owners take pride in what they have. Although there are currently 18 homes for sale, Rock Creek is a fairly large neighborhood so the number of homes that are on the market represents a reasonable figure.
Of the 18 that are for sale, the largest home offers 7,278 square feet and the smallest has 2,524 square feet. The highest priced home is for sale at $1,270,000 and the lowest is $338,400. You can find 3, 4, and 5 bedroom properties with an average square feet of 3,680.
The average sales price is $495,433 with an average price per foot of $133. The average home in Rock Creek sits on the market for 68 days.
For more information about this great neighborhood and to see all available homes, please visit Homes for Sale in Rock Creek.
Homes Sold in the Last 2 Months
With 7 closings in Rock Creek over the last couple of months you can tell that this great neighborhood is very popular. The most expensive home sold for $995,000 and the least expensive was $368,500.
These particular properties had an average price per square foot of $147 and were on the market for 58 days.
Are you wanting to sell your home? Learn more about what I will do to sell your home at, 4.5% Reasonable Commission.

No matter if you're wanting to purchase or sell in Rock Creek, I would love to share with you how I can make your life a little easier. Please reach out and let's talk about what's next for you.
Jeff Nelson
IXL Real Estate – Eastern Shore
251-654-2523
jeff@livegulfshoreslocal.com