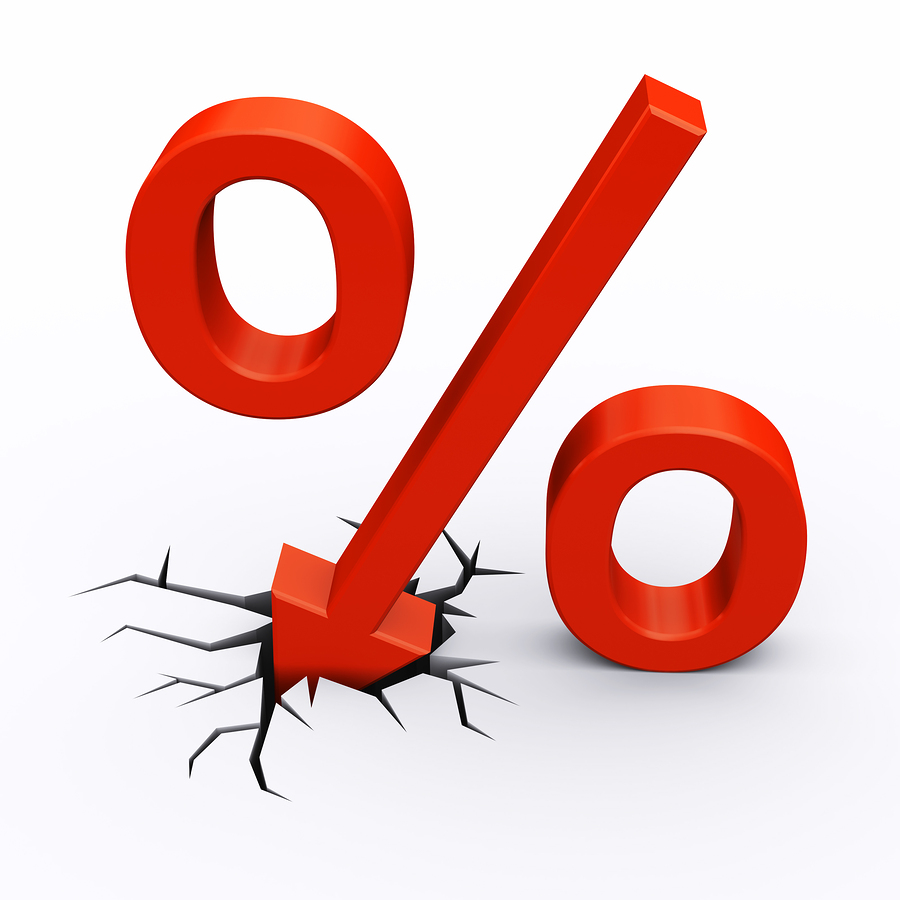 We've all heard the phrase, "this is the perfect time to buy"! Well, perfect is relative to your personal situation and the last time I checked, we don't have a crystal ball when it comes to interest rates. Now as a busy Realtor who talks with lenders all the time, there are ways to somewhat forecast how the financial world is going and how that will effect home mortgage interest rates.
One thing is for sure though, the higher the rate that you have, the less purchasing power you'll have. I know that's a "Captain Obvious" moment but sometimes buyers will sit on the fence and wait for interest rates to go even lower.
Here's what happens when they wait too long……You'll end up buying a lesser house for the same monthly payment.
We've had the good fortune of enjoying low interest rates for quite a few years now and common sense tells me that (at some point) they are going to go back up. Most people realize the simple fact that higher rates equal higher monthly payments but most don't figure out the actual costs. With a simple Google search for a "mortgage calculator" you can do what I've done below:
Here are your monthly principal and interest payments based on various rates for a 30 year mortgage on a $200,000 home:
| | | |
| --- | --- | --- |
| Rate | Monthly Payment | Total Costs |
| 4% | $955 | $343,739 |
| 5% | $1,074 | $386,512 |
| 6% | $1,199 | $431,676 |
So you have the same house with different rates but there is a substantial increase in costs. Even a 1% rate increase would be a tremendous monthly hit to most people in the country.
Understand too that these mortgage calculators only determine principal and interest. Your total monthly payment will cover principal, interest, taxes, and insurance (or PITI). Most home buyers get a conventional loan that has a fixed rate which means the rate that you have on day one will be the same rate that you have at the end of 30 years. That's why it's so important to buy your home when rates are still great. If you're able to obtain a 4% interest rate today, your payment will be the same no matter what happens in the market. On year 10 of owning the home, you'll still have a 4% interest rate.
Here's another image to drive it home….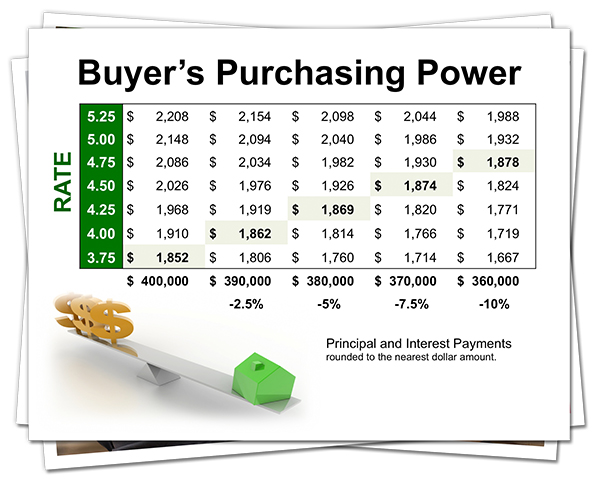 You can go to Freddie Mac's Primary Mortgage Rate Survey at any time to see what the rates are doing right now. At the time of this writing, the rate for a 30 year fixed loan is 3.84%. Hmmm, that's pretty impressive! By looking at the image above we see that for every 1/4% increase in the rate, there is a 2.5% decrease in the amount of home that you can buy for the same money.
That right there is a good picture of how interest rates effect your home buying purchase power.
If you have been sitting on the fence about buying a home, the mortgage rates are still great (as of today) so don't miss out and lose your purchasing power. Here are a few other considerations to take into account about buying a home:
Mortgage interest rates are tax deductible
Taxes on real estate is deductible
Mortgage Insurance is deductible
Watch rates and talk with a seasoned lender. Although your purchasing power would decrease, historically speaking, a 5% is still pretty good.
Home appreciation or depreciation is always a factor when buying a home. What is your market doing? Talk with a Realtor (me in Alabama) to find out.
If you do end up buying a home at a high interest rate, you can always refinance when rates fall again. There is a cost to this but it could make total sense.
Thinking about buying a home in Fairhope? Call/text/email me from the information below. You can take advantage of the great rates that we have right now and make the most of your purchasing power.