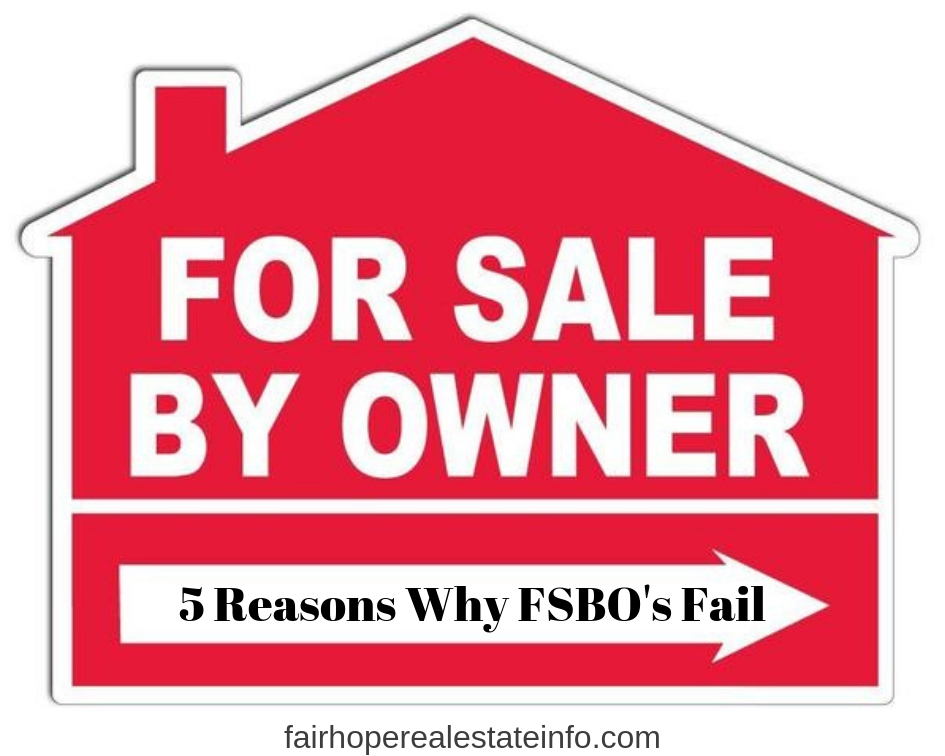 Yes, I totally understand the logic behind wanting to sell your home on your own but there is a reason (ok, there are many reasons) why only 7% of homes sold in this country sell by "For Sale By Owner". It does sound enticing, right? You do all the work so you get to keep all the money….Maybe that's true or maybe not.
It's a fact that anyone could read up on the subject and be physically up to the challenge of selling their own home. The real question is, do you really want to?
The National Association of Realtors states that 93% of all homes sold use the assistance of a real estate agent. By clicking the link above, you'll be able to see the methods that sellers use to try to sell their home and also the pitfalls they encountered along the way. It's those pitfalls that I'll be referencing throughout the rest of this article.
5 Reasons Why FSBO's Fail
According to the studies of the NAR, FSBO sellers have the most struggle with:
Coming Up with the Right List Price
Understanding and Executing the Paperwork
Selling Their Home Within a Specific Time Frame
Preparing Their Home for Sale
Having the Time to Dedicate to the Sale
Research has shown that FSBO homes sell for less, take longer to sell, and require more work than what was expected. Let's dig deeper into this….
Determining the Right Price
Since price is "the most important" aspect of selling any home, getting this wrong can create a lot of frustration and waste a lot of time. FSBO sellers tend to not price their home correctly. Most of the time they price their property too high but in some cases they may leave money on the table.
The root problem of pricing too high is the fact that most homeowners (FSBO or not) believe that their house is worth more than what it really is. We're all guilty of this! Most of us put a lot of blood, sweat, and tears into our properties and surely that's worth something, right? Well, sadly that's not the case.
While there are hundreds of articles written about home pricing, there are a couple of points that stick out to me regarding pricing an FSBO property.
First, buyers and sellers have more access to real estate information than ever before. Most of this information is good but there are online tools that sellers use that can hurt them in the long run. Zillow's "Zestimate" home evaluation tool is a good example. This tool is historically off on price (admittedly so by Zillow itself). However, there are many sellers who are pleasantly surprised when their Zestimate gives them a figure that is $30,000 over what they thought their home was worth.
Seasoned Realtors know how to analyze real estate stats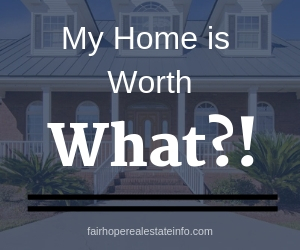 while taking into account upgrades that your property does or does not have compared to other homes in your area. Also, a Realtor will know the pulse of the market by considering your neighborhood, the surrounding area, and if buyer's a paying more or less for properties. Online tools can't do that for you.
Second, psychologically, buyers realize that you're selling FSBO and not paying a commission. So it's likely that they will try to low ball your offer substantially. You're also likely to see offers that are way below those if you were working with a Realtor.
Understanding and Executing the Paperwork
30 years ago you could purchase real estate with a one page document but nowadays our Offer to Purchase alone is 12 pages, not to mention the many addendum and disclosures that go along with the sale. It's often said in the real estate world that every new paragraph that is added to a real estate contract is there because someone got sued. A real estate transaction is serious business and the chances are great that the FSBO seller is not familiar with the language of the many documents that are necessary.
There is also the issue of executing contingencies and staying on top of time periods. With every contingency there is a specific time when it has to be resolved. The FSBO seller will also have to negotiate repairs from the home inspection, work with the title company, and deal with the appraisal if it comes in too low.
Selling Their Home on Time
Again, without knowledge of the current market conditions in your area, how would an FSBO seller know what to expect for a closing date? I've never seen an online tool that tells the public what the average Days on the Market are for a neighborhood. How in the world would the seller know how to plan?
If the average Days on the Market in (for example) Fairhope AL is 90 days, there will be some homes that sell in 2 days and others that sell in 120 days. That's yet another job of the Realtor to find out what the difference was between the properties that sold quickly and those that sat on the market for months. They then compare those properties to yours and are able to better identify a closing time.
Preparing Their Home for Sale
FSBO sellers do not have an "objective eye" to give them advice on how to prepare their home to sell – period. Here's the rub – what looks great to you may not appeal to the masses. In order to put yourself in the best position to be successful you have to present your home in the best possible light. Your property should appeal to the most people. Preparing your home to sell usually touches 3 different areas: repairs, de-cluttering, and staging.
Repairs
Now, don't get the wrong idea here. I'm not talking about replacing your roof or HVAC (but you will have to adjust your price in this case). There are many smaller repairs that you can tackle that will give the potential buyer less negative to think about. A Realtor would be able to automatically identify items of concern that wouldn't cost you a lot of money or time to fix. On the other hand, most FSBO sellers will not take the time to replace a leaky faucet, change burned out light bulbs, or re-caulk windows. These sellers are usually so overwhelmed by the mere process of taking on the sale that they will neglect obvious fixes that could make a huge difference.
De-Cluttering
Here's something that most of us are guilty of – accumulating stuff. Homeowners love their stuff but they don't understand the mind of the buyer and they don't have anyone to explain it to them (a Realtor). Packing away or storing excess items that a buyer doesn't care about is often overlooked with FSBO sellers.
Staging
Staging your home to sell is an art that most people don't understand but it's extremely important. Staging has to do with making your home appear more bright and airy while giving the illusion of creating a space that is bigger than it is. Buyers like openness and clean sight lines. So, unless the FSBO seller is a professional stager, they won't have a clue on what to do to appeal to the most buyers.
Having Enough Time to Dedicate to the Sale
Time is a huge factor in selling your home by FSBO. Not only does the seller have to do the research on selling but there are many other time consumers that come into play.
Finding ways to market their home (huge)
Writing an effective description of their property
Screening buyers
Sitting open houses
Scheduling appointments
Being present for all showings
Negotiating an offer
Being present for inspections
Constantly following up with inspectors, the title company, and the buyer's lender
Making themselves available to answer questions
Making arrangements for pets
Despite what FSBO sellers think, homes do not just sell themselves. There is a ton of work that goes into the whole process that involves a lot of time, attention to details, and understanding the mind of the buyer.
Again, I respect the idea of a home owner trying to tackle this on their own. However, paying a negotiable commission rate will "put the cards in your favor" by saving you a ton of time, lowering frustration, and possibly even making you more money on closing day.
Additional Resources for Selling FSBO: